NOTE: The developer of the QTH.com SiteBuilder has discontinued all development. Thus, there will be no further support or enhancements. We STRONGLY encourage you to switch to a different web development platform, such as WordPress, which can easily be installed via our cPanel control panel. Please Contact Us if you need help or advice with installing and switching to a new system.
As you edit your site in SiteBuilder, changes are automatically saved, but not published on the Internet until you click the Publish button.
While you are editing, if you don't like what you have done during that editing session, you can hit "Revert" and it will go back to before you logged in.
IMPORTANT
-- you will lose EVERYTHING you have done from the time you logged in to edit, up to the time you hit Revert.
If you need to correct a simple mistake, rather than doing a "Revert", you can use the "Un-do" feature. You can press "Control-Z" or click the "un-do" icon in the menubar, to un-do the last edit you made. And if you don't like what was un-done, you can "Re-do" the changes, by pressing "Control-Y" or clicking the "re-do" icon in the menubar. Those that are familiar with Windows will recognize that Control-Z and Control-Y are the universal standard for undo and redo.
Here is a screen shot of the Un-do and Re-do icons in the menu bar: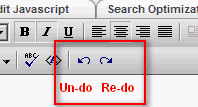 When you are ready to see your changes live on the Internet, you can hit Publish, and it will put your site on the Internet.