Microsoft Expression Web software was discontinued by Microsoft in December 2012.  Although the software is no longer supported and is quite old, it still works to publish pages to our hosting service. This document will help you to configure it to work properly.
In order to publish web pages with Microsoft Expression Web to our servers, you must publish using "WebDAV" (aka "WebDisk").  Publishing via FTP is no longer supported, due to an old technology that Expression Web requires, that is no longer available in modern FTP server software.
This screen shot of Microsoft Expression Web FTP setup should help you to configure Expression Web to upload your files to our web server, using WebDAV / WebDisk.  
See further discussion of these settings below the screen shot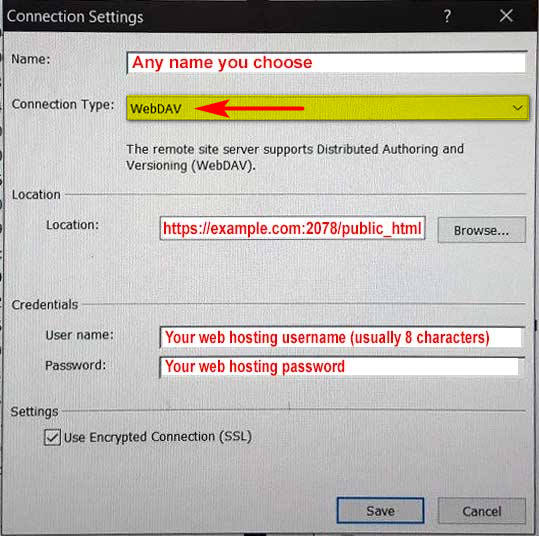 Name:  Any name you choose is OK -- it is not used by the server.
Connection Type: WebDAV
Location:  Use the format of:  https://example.com:2078/public_html 
https:// is important, as it forces the publishing to be over an encrypted connection.
example.com should obviously be changed to be YOUR domain name
:2078 is the port number that our server uses for WebDAV publishing, so this is required
/public_html is the folder on the server that contains your website.  If this is your primary domain/website, then /public_html is correct. If the website you are publishing to is an Add-on Domain, then you'd need to change this to point to your Add-on Domain's directory (for example /public_html/addon-domain.com 
If you need further assistance with this feature, please feel free to Contact Us.